With home prices increasing at double digit rates over the last 2 years, and rents increasing at similar rates, I often get asked questions about where the money is coming from to support these price increases. Questions like:
Where are all these people coming from that can afford Bellingham's prices?
And are rents and home values over-inflated?
After all, it's well known that Bellingham does not have an Amazon or Microsoft like Seattle does to boost the economy. But as a Realtor, meeting and talking to buyers every day, you do get a better feel for where the money is coming from. And the money is here!
First, we have to look at the fact that there is a local economy that has been improving.
Second, while Bellingham does not have as many large corporations, it is home to many affluent small business owners, who operate business's that serve customers nationally and internationally. And with many large tech companies in Seattle allowing more and more employers to work from home, Bellingham has seen a sharp increase in the number of professionals relocating to Bellingham-tele-commuting to their Seattle jobs. Indeed, there is more and more Microsoft and Amazon employees relocating to Bellingham.
Third,  Bellingham continues to be a sought after location for retirees, and this is in fact a huge segment of the upper end Real Estate Market. Retirees are coming from everywhere from the East Coast to California, with huge equity from their home sales elsewhere.
Last but not least, our neighbors from Canada still play a role. Despite the exchange rate hurting the Canadian dollar, Canadians still buy and rent in our market, and contribute to the local economy.
Bellingham does have some big employers with relatively high paying jobs. Namely St. Joseph's Hospital, WWU, BP Cherry Point Refinery, Zodiac Interiors, Intalco, The Family Care Network, Alpha Technology's and the Anvil Corporation.
But the local job market has not played the biggest role. It is indeed the tele-commuters and the retirees relocating to Bellingham that have been the biggest factors in the rise in demand in Bellingham.
And then we can't forget about the supply issue. Bellingham has very little new construction happening, relative to the growth. And new construction was almost non-existent from 2009-2012.
So the demand is coming from a diverse populous, and yet the supply is not even close to catching up.
And while the demand for housing in Bellingham has made it less affordable. It has helped many local industries. The Real Estate industry (there is now over 1,000 Real Estate agents in Whatcom County), the financial sector is growing, & Bellingham has seen a huge rebound in construction jobs.
I would love to see an increase in the area of in-fill and affordable housing in Bellingham. And some of that is happening near and around downtown. But we can also consider that Bellingham is surrounded by Ferndale, Sudden Valley, Blaine, Everson, Lynden…communities that are more affordable, and still boasts good schools, some great neighborhoods, and relatively short commutes into Bellingham.
So this is a diverse economy, and the housing market is indeed strong and stable. It will be interesting to see if prices continue to increase in the spring of 2019. My best guess is that they will.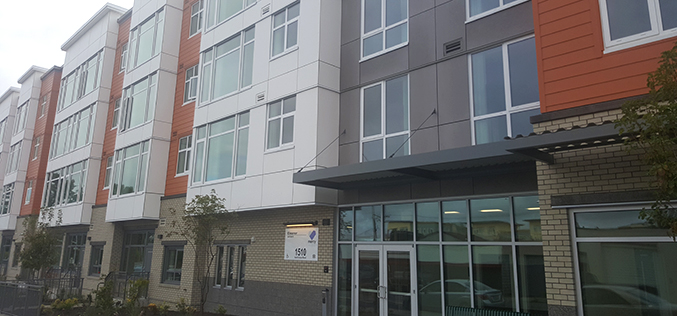 The Eleanor Apartments on N. Forest st in downtown Bellingham. This is an 80 unit apartment complex just completed to provide affordable senior housing. Another similar project is happening nearby, as the city has worked to provide incentives to developers to provide affordable housing downtown.